Professional Athletes Up Close
"Wir stärken Kinder" (We support children): Sportdeutschland.TV, ProSiebenSat.1 Group's digital sports channel, partnered with the charity SOS Children's Village to set up this initiative that gets athletes involved for a good cause. The kids get to train with the pros, in the process learning the value of engagement and team spirit.
It starts with a friendly bow. But after that, the eyes of the eight girls and boys gathered in the gym at the SOS Children's Village in Germany's Sauerland region grow wider and wider. Olympian Martyna Trajdos uses an expert move to fling her judo partner Szaundra Diedrich to the mat. "Uh oh, we're supposed to do that next? That's got to hurt!" says Diedrich, quoting the children's first reactions. "So after the warm-up, we started out with a couple of games to allay their fears, then practiced some falling techniques, and finally worked on the first throws."
Their enthusiasm grows with each new exercise. "With the right technique, I actually threw my opponent to the mat!" one of the young beginners' course participants enthuses, pointing to a friend who towers a full head above him. In his zeal, he even dares to take on former European Judo Champion Trajdos, who gamely lets herself be tossed.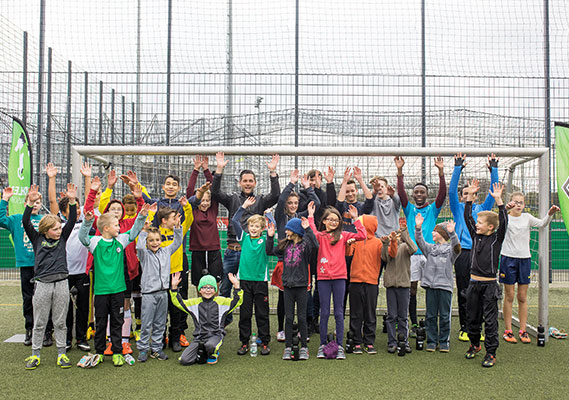 "The children realize they can achieve something if they have the courage and the right approach. Conveying that self-confidence is one of our main goals," says Diedrich, who advanced to the top tier worldwide in 2015 by winning the Grand Prix in Tbilisi and gold at the European Open. During the training session, the judoka duo caution the kids never to forget one thing: "Look out for your partner! You have to be fair and make sure nobody gets hurt." After a two-hour workout, the group enjoys lunch together, and meets again a few weeks later at the Judo Grand Prix in Düsseldorf so the kids can watch the two pros compete.
We support children
The name says it all: We support children. In August 2016, the German SOS Children's Village organization partnered with digital channel Sportdeutschland.TV, the official platform of the German Olympic Sports Confederation (DOSB), to launch the social initiative. The concept behind it: Current and former top-tier athletes invite kids from the SOS Children's Village homes to events or run sports activities for them as a way of boosting their self-confidence, motivation, and group dynamics. Donations go to sports projects at the SOS Children's Villages. Six events took place in 2016, with around ten slated for 2017. The idea was conceived by 7Sports, a subsidiary of ProSiebenSat.1 that focuses solely on sports – from digital sports platforms (such as Sportdeutschland.TV, 90min.com) and sports productions about the management of young talent and pro athletes, through to organizing and running major events (like the Volleyball Supercup and the BMW Open). In addition to 7Sports and the German Olympic Sports Confederation, the initiative is funded by the German Sports Youth, and the agency Jung von Matt sports.
www.wirstaerkenkinder.de
#wirstaerkenkinder
Martial arts with the elites of women's judo, swimming with former freestyle world champ Paul Biedermann, paddling with Olympic champion canoeist Sebastian Brendel, throwing the pigskin around with football coach Patrick Esume – the list of activities run by top-ranking athletes as part of the "Wir stärken Kinder" (We support children) initiative goes on and on. Sportdeutschland.TV, ProSiebenSat.1 Group's digital sports channel, joined with Germany's SOS Children's Village organization to launch the program in 2016. "This partnership is very dear to our hearts," says Zeljko Karajica, CEO of 7Sports, ProSiebenSat.1 Media SE's sports-related business company, which sparked the idea for the project. "We are thrilled with the fantastic commitment of these top athletes, who bring great enthusiasm to the project from day one."
"Children whose biological parents can't care for them need extra support," says Dr. Kay Vorwerk, CEO and Managing Director of SOS Children's Village: "Professional athletes, world champions, and Olympic gold medalists are role models when it comes to virtues such as discipline, focus, stamina, and the will to succeed. Sports teach kids to pull together as a team, solve problems together, and not give up when the going gets tough."
Media muscle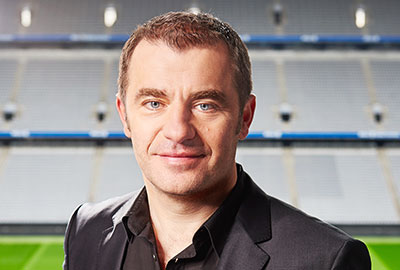 TV, online, social media, events – ProSiebenSat.1 uses all channels to generate awareness for the "We support children" initiative. Julius Brink, 2012 Olympic champion in beach volleyball, kicked things off in a TV commercial. In 2017, another commercial featured several sports ambassadors: Football coach Patrick Esume, the judoka pair Martyna Trajdos and Szaundra Diedrich, along with Paralympics stars Niko Kappel and Mathias Mester, all stepped up. Coverage on ProSiebenSat.1's channels and Internet platforms, video clips about the athletes' engagement on the websites, and the involvement of SOS Children's Village as a partner at 7Sports's stadium and indoor events all help to publicize the initiative and boost donors' generosity. On top of that, the sports ambassadors feature their activities on their own social media sites.
Learning from setbacks
Many of the pros involved in the initiative themselves learned the meaning of motivation, willpower, team spirit, and responsibility through sports. And also how to deal with setbacks. That was the case for soccer player Tobias Strobl of Borussia Mönchengladbach, whose father died early: "That blow made me lose my direction," he says, recalling the time immediately after his father's death. But sports helped him get back on his feet. Today, he plays in the German Bundesliga with appearances even at top European level.
Strobl stands on his team's practice field, takes a running start, and shoots – but the little goalkeeper deftly saves the penalty! After all, this is an aspiring Manuel Neuer. Kitted out in gym clothes and goalkeeper's gloves, the elementary schooler is one of over 30 boys and girls from nearby SOS Children's Villages invited by Strobl and his club to join them for soccer practice. After lunch in the VIP area, the midfielder takes them on a tour of the Borussia Park stadium, sits with them on the players' benches, and shows them the locker room. "The children hung on his every word as Tobias described how the players file out onto the field through the tunnel with their fans cheering in the stands," TV host Matthias Killing says. "Getting that close to a Bundesliga pro is an amazing experience for them."
Killing, who hosts SAT.1's Frühstücksfernsehen and ran sports programs, is also involved with the project as an ambassador. "A child's laughter is the greatest possible motivation for me – when I see that, I've really accomplished something," says Killing, who grew up in a well-protected environment near a children's home. "Even when I was very young, it really affected me when children weren't able to grow up in a happy family. We aim to support them through exercise and sports, give them a love of life and self-confidence." He is on hand for events featuring Tobias Strobl or German national volleyball player Lenka Dürr, to report on them on ProSiebenSat.1 Group's channels and websites.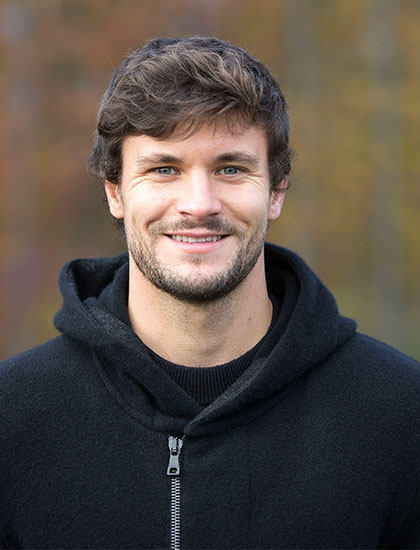 Most kids love being physically active. It is up to us adults to ensure that they continue to enjoy it for as long as possible.

Tobias Strobl, professional soccer player with Borussia Mönchengladbach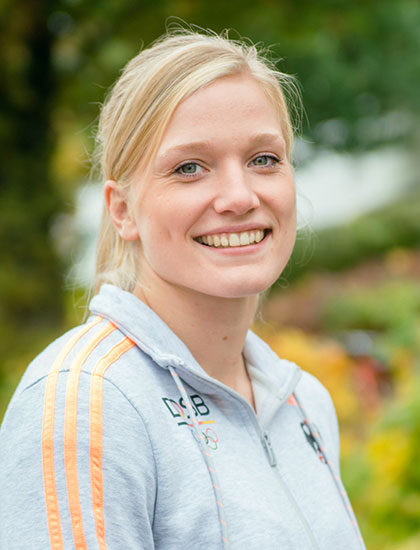 Children are our future. We need to motivate them and give them the strength to say, 'Hey, this is my life and I'm going to take control of it.' The best way to learn that kind of self-confidence is through sports.

Szaundra Diedrich, 2017 German judo champion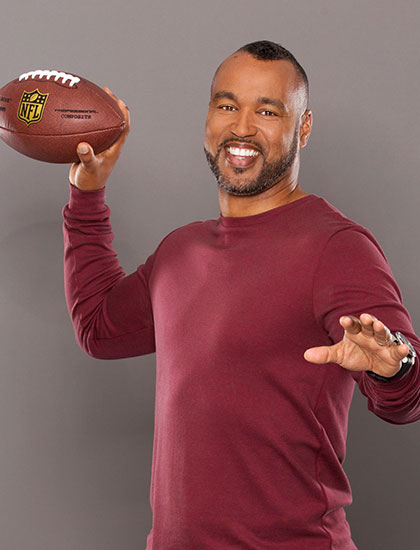 Sport brings people together, irrespective of their origins, social status, or skin color.

Patrick Esume, American football coach and former player who holds several German, Eurobowl,

and World Bowl titles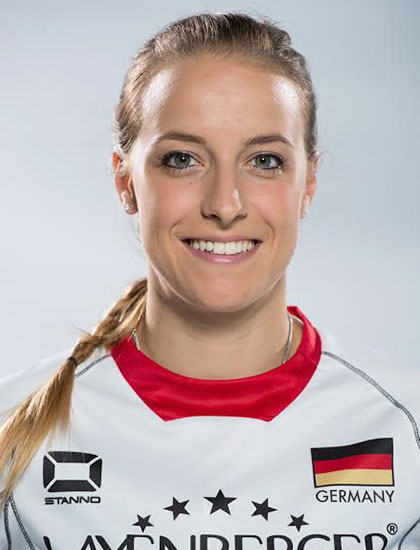 Sport makes kids strong and gives them a new outlook on life. That's why I support the 'Wir stärken Kinder' initiative.

Lenka Dürr, German volleyball international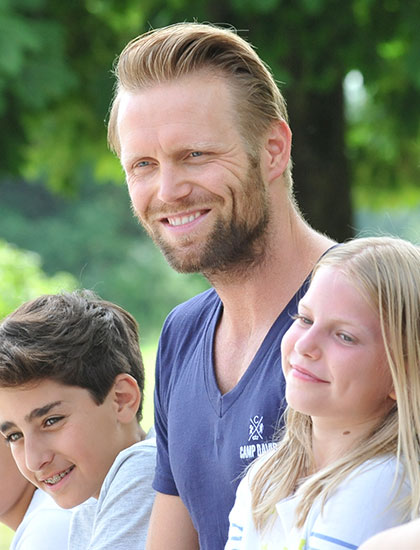 I'm already looking forward to spending more time being active with the kids and teens in an SOS Children's Village in the future. It's beneficial for the children and always gives me fresh motivation.

Julius Brink, London 2012 Olympic gold medalist in beach volleyball
"Our strength is getting the initiative's message across to the public," Zeljko Karajica, CEO of 7Sports, says. "Well-known athletes are inundated with requests for social activities every day," the manager says. "With our initiative, they can be sure that when they join us for local events and donation drives, they'll be making a positive impact on these children's lives." Karajica is also pleased that other media have shown interest in this engagement – such as the German TV channel ZDF, which aired its own report on Strobl's training activity as part of its UEFA Champions League coverage.
The in-person training sessions and tickets to the competitions score the most points with the kids, who can hardly contain their excitement. "The response to the first activities has been overwhelming," Dr. Kay Vorwerk, CEO of SOS Children's Village, reports. Of course, those responsible at 7Sports and SOS Children's Village hope the collaboration continues as successfully as it began one year ago. Karajica: "We want to go on making children's dreams come true."
SOS Children's Village
There are currently 16 SOS Children's Villages in Germany that are home to nearly 700 children and teenagers.
Austrian medical student Hermann Gmeiner lost his mother when he was five and grew up with his sister. In 1949, he founded the SOS Children's Village association in Austria in order to provide a home for children who had been abandoned or orphaned in the war. Germany's first SOS Children's Village opened on the shores of Ammersee lake in 1958. Today, most of the homes' residents are young children and teens with difficult family situations.
SOS Children's Village also supports disadvantaged families, people with disabilities, and underage refugees. With a total of 40 facilities at nearly 300 locations in Germany, the organization cares for more than 95,000 people each year.