"I have so much I want to share with the world"
Kassandra Wedel loves performing on stage. Ever since childhood, she's enjoyed dancing and playing different roles. With her talent and positive energy, the winner of the ProSieben show Deutschland tanzt (Germany dances) has already gained a huge following – an important step forward on the road to greater inclusion.
Dressed in a business suit and hunting alien slime monsters – just like Dana Scully who sneaks around secret military bases at night in the cult series The X-Files. That's the dream. A female lead who is not only beautiful but also smart and self-confident – that was a sensation on TV back in the nineties. The super agent inspired a host of subsequent heroines and a whole generation of young girls who until then had mostly seen women on TV depicted as the sexy sidekick to a male lead. With her red hair, fair complexion, toned physique, and confident gaze, it's easy to imagine Kassandra Wedel in the role.
Agent Scully was a major influence on the performer in her youth and the 33-year-old would love to play the part of the resolute alien hunter to this day. She is an actor, a dancer and a choreographer – and deaf.
But she is still talking: with her hands, eyes, and body. "Language is so much more than words that come out of your mouth," she says, tracing a big arc in the air with her delicate fingers. You can shape language in a spatial dimension, through dance, by making gestures, or combining all these elements together: "There are so many ways of communicating visually."
Kassandra has been dancing since she could walk. Or since she was born in 1984, as her mother Romy likes to joke. At the age of three, she started ballet lessons. When the bright little girl lost her hearing in a car accident a year later, she continued to prattle away, reading lips. At first no one noticed it, until finally a doctor, holding up a newspaper to obscure her mouth, started asking the girl questions. Kassandra tore it away angrily. "Then it was clear to everyone that I couldn't hear her."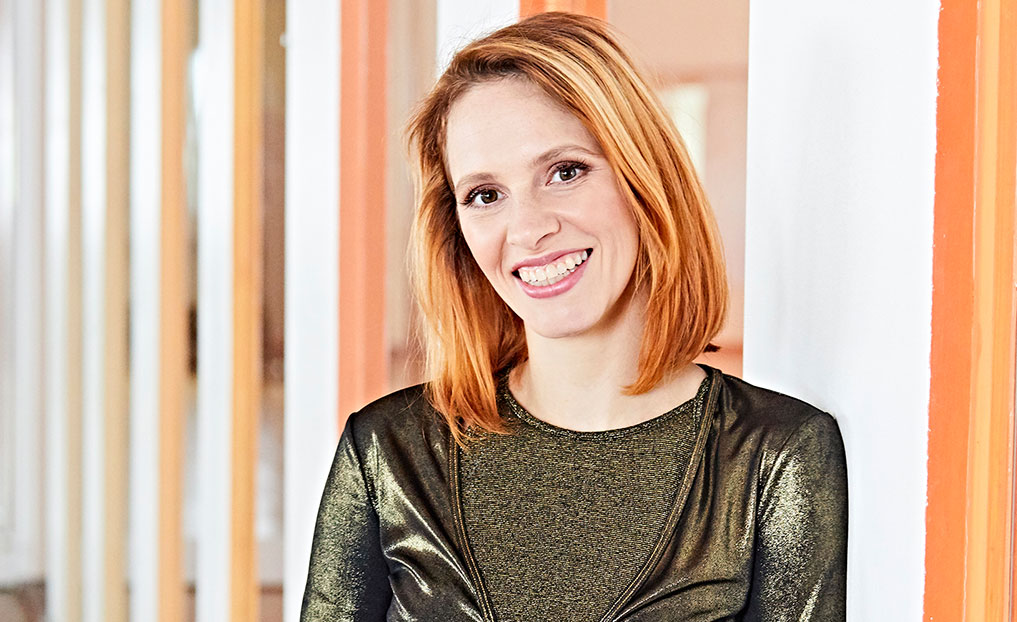 Growing up in the German municipality of Seeheim-Jugenheim, the young girl took part in children's theater and soon realized that it's possible to dance without being able to hear the music. As a teenager, she discovered what remains her great passion to this day – hip-hop. Having qualified as a dance teacher, she gives lessons to both deaf and hearing students. The first question hearing people always ask is how it's even possible to dance if you're deaf. Her patient answer is: "I can feel the vibrations, especially the bass."
Kassandra Wedel has also established her reputation as an actor. The theater is her second great passion. In 2017, for instance, she has appeared at the Münchner Kammerspiele theater in the play Lügen (Lies) and is touring with the German Deaf Theater performing in Der Diener zweier Herren (Servant to Two Masters). In January 2016, the newcomer landed her first notable TV role in the Tatort (Crime Scene) series set in the German federal state of Saarland. The role of deaf dancer "Kassandra" was written specifically for her. Critics have repeatedly praised her "extraordinary talent."
The actor would like to see more subtitles for deaf viewers on TV and broadcasters being more daring in their choice of material and actors. "There are too few roles for people with disabilities," she emphasizes. And the portrayal of such characters tends to focus on their disability rather than their personality. "The character should be more important than the disability."
~ 80.000
deaf people are currently living in Germany according to the German Association for the Deaf.

In September 2016, the performer who makes her home in Munich won the ProSieben Deutschland tanzt competition, enthralling the jury and audiences in all 16 German federal states. The tabloid press also discovered Wedel in the same year, declaring that the "deaf dancer" wins hearts with her "moving story" and more. Kassandra takes this in her stride, saying that society still has to get used to the idea of a deaf dancer. "I think more contact between people is important in overcoming prejudices."
Her choreography frequently includes elements of sign – not only to make it easier for the deaf to understand: "I want to convey how I feel," she says. Dancing is about more than learning a sequence of steps, "You have to pour something of yourself into the movements and tell a story," she explains, tousling her red hair. "I have so much I want to share with the world."
Kassandra's mother taught her daughter to be strong. "Can't isn't a word you heard in our house. My mother always said, just do it! Without my mother, I wouldn't be the person I am today." In 2000, the pair moved to Munich. The idea behind the move to the Bavarian capital was that there'd be better opportunities for Kassandra – a bigger deaf community and special schools. But her school career continued to be bumpy. Whether she attended mainstream schools or ones for the deaf and hearing impaired, she always had to struggle to follow what was being taught because hardly any of the teachers were fluent in sign language. "There was so much bottled up inside me, it was unbelievable," she says earnestly as her hand rises up from her chest to her chin: "Staying polite, staying calm, not exploding, trying to understand."
Accessibility at ProSiebenSat.1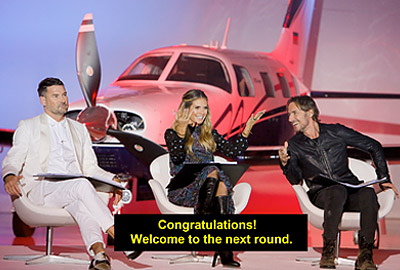 According to the German Association for the Deaf, there are currently some 80,000 deaf people in Germany, while its counterpart for the hard of hearing estimates about 14 million people in the country have impaired hearing. To ensure that this demographic can still enjoy TV, subtitles in shows, series, and movies are not only used to convey dialog but also sound effects such as a creaking door or accompanying music.
In 2016, ProSiebenSat.1 Group once again significantly expanded its offerings for people with hearing loss. ProSieben subtitles popular series such as The Simpsons, The Big Bang Theory, and Grey's Anatomy. In addition to Germany's next Topmodel, the TV station added Deutschland tanzt to its major shows that are aired in an accessible format. On SAT.1, new series such as Blindspot round out subtitled offerings of classics including Criminal Minds. And kabel eins airs all episodes of The Mentalist with captions. Compared to 2015 when 7,000 minutes of series were broadcast with subtitles each month, a total of nearly 30,000 minutes per month is now available.
ProSiebenSat.1 stations have also dramatically ramped up their commitment to catering for the hard of hearing in terms of feature films. Over 100 movie highlights per month air with subtitles, while in 2015 there were 35. Online overviews of all programming featuring subtitles can be found at www.sat1.de/Untertitel and www.ProSieben.de/Untertitel. Among commercial TV broadcasters, the Group is a pioneer in accessibility and is continually expanding its quality and quantity. ProSieben began its subtitling initiatives as far back as 2000 and has exceeded the minimum requirements for media providers since 2013. [M4]
Kassandra attended seven different schools. Today, she knows that sign language is the key. It's simply unacceptable when children don't understand the curriculum because they can't lip read enough of what's being said. "More people need to learn sign language – not only so that the deaf understand everything but also so that their needs are better grasped."
Eventually the young woman gave up on her hearing aids. "At around 18, I noticed that I can feel music better when I'm not wearing a hearing aid. The jumble of noises that arrived in my ears irritated me more and more." With the help of two sign language interpreters, Kassandra went on to successfully complete a degree in theater studies and art education.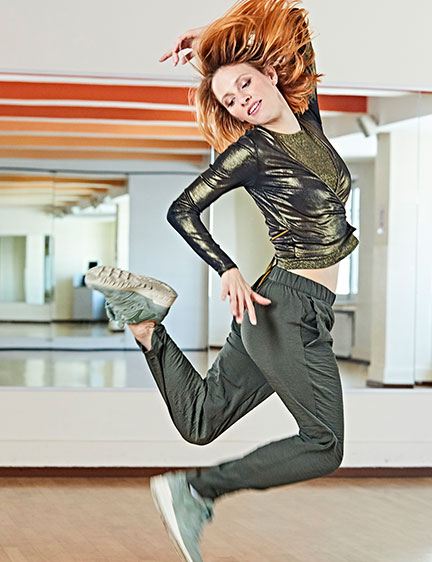 In her hip-hop dance group Nikita, communication between the deaf and hearing is "bilingual" – both spoken and sign language are used. "No one should feel excluded, everyone is welcome to join in," says the dance teacher. The hearing members of the group soon get their heads around signing and some have even qualified as interpreters.
This is the way Kassandra Wedel would like people with and without disabilities to interact in society: "I don't like it when inclusion is so heavy-handed and contrived. It should go without saying that everyone is welcome."
SchoolsON
As part of the SchoolsON competition for school students, ProSiebenSat.1 is conferring a special prize for a subtitled entry for the first time in 2017. The competition was initially proposed by the ProSiebenSat.1 Advisory Board with the backing of the German Children and Youth Foundation. Whether as a whole class or on their own initiative, students brainstorm and produce a TV segment for the Galileo, taff, or Newstime magazine shows.
With SchoolsON, we aim to get young people excited about grappling with media literacy," says Edmund Stoiber, Chairman of the Advisory Board of ProSiebenSat.1 Media SE. An expert jury comprising TV presenters Annemarie Carpendale, Laura Dünnwald and Funda Vanroy together with author and journalist Dieter Kronzucker selects the winners. In choosing the best entries, the judges are more interested in the idea behind the segment than its technical polish. "SchoolsON is not only an opportunity for young people to blossom creatively but also for us to gain insights into what content and subjects preoccupy this generation," emphasizes Heike Kahl, managing director of the German Children and Youth Foundation and a member of the ProSiebenSat.1 Advisory Board.
The prizes are awarded in two categories: In the "general" category, the young participants can submit work on topics of their choosing (for broadcast on Galileo or taff), while the "special category" is dedicated to the German federal election (for Newstime). The best clips will be aired on ProSieben. Other prizes include a visit to the Galileo, taff, or Newstime studios as well as a technology hamper with hard- and software for the next film project. The special prize for a subtitled entry will be a surprise. The winner will be selected by the ProSieben producers. [M4, M7]

Getting more out of the TV experience

2017
In the first quarter of 2017, ProSiebenSat.1 Group stations broadcast twice as many programs with subtitles as in the same quarter of 2016.


Subtitled broadcasting time on the
ProSieben, SAT.1, and kabel eins stations

In the first quarter of 2016:
703 broadcasting hours
In the first quater of 2017:
994 broadcasting hours