Our Projects
Our Projects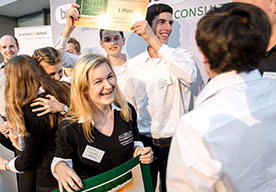 BUSINESS@SCHOOL
ProSiebenSat.1 has backed the Boston Consulting Group's business@school educational initiative since 2015. Each year, some 1,500 students at 90 high schools in Germany, Italy, Switzerland, and the US enter a competition that aims to introduce them to business topics in a practical, accessible way and give them a grounding in entrepreneurship. Teachers and representatives from partner companies mentor students over the course of a year. Among those acting as coaches are ProSiebenSat.1 employees who have taken tenth to twelfth grade students at two Munich high schools under their wing. The program comprises three phases: After analyzing a large and a small company, the students go on to develop their own business idea, including a business plan. Student teams present the results of their work in school at the end of each phase. Following the third phase, the competition concludes with a specialist jury selecting the best projects in the country. In January 2017, ProSiebenSat.1 invited a group of students from Grashof high school in Essen to Unterföhring. Within the scope of the initiative, they not only engaged intensively with the Company's business model and strategy but also had an opportunity to present their insights to an internal jury of experts. As a reward for their efforts, their visit was wrapped up with a tour of the TV studios.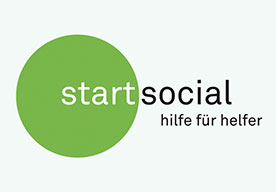 STARTSOCIAL
While many socially minded entrepreneurs have great ideas for community projects, they often run into practical problems when attempting to implement their plans. The startsocial competition lends helpers a hand. Some 500 experts from business, the public sector, and social institutions advise on selected social projects during a four-month coaching period. From a total of 100, a jury selects the 25 best projects before the competition's patron, German Chancellor Angela Merkel, bestows an award on seven. A co-founder of the competition, ProSiebenSat.1 Group has not only sponsored startsocial since 2001, but the Group's employees also support the project by acting as coaches to the winners. Early in the summer of 2016, about 400 charitable organizations and initiatives from throughout Germany applied for grants from startsocial. The range of social issues and challenges tackled by the volunteers is very broad, to the extent that entrants run the gamut from projects promoting educational justice, through better refugee integration, to greater social inclusion for people with impaired health. In May 2017, the competition enters its 17th round.
SOCIAL DAY
Our annual Social Days are an opportunity for ProSiebenSat.1 employees – from channel heads to apprentices – to join together and put our commitment to social responsibility into action by helping the less privileged and, at the same time, getting to know colleagues from other departments. Ever since 2013, they can choose to spend one working day making a difference at a social institution in and around Munich. During the Social Days in May and October 2016, we lent a hand with clothing donations at the Bayernkaserne refugee center in Munich's Freimann district, organized a sports and games day at a home for physically disabled adults in Munich, and spruced up the garden in the city's care center for blind women. More than 360 employees have stepped up as volunteers to date. The next Social Day is scheduled for the end of June 2017. Some 50 dedicated staff members intend to renovate a worksite trailer at the SOS Children's Village in Munich's Neuaubing district, lend a hand with daily chores at the Munich homeless shelters, and give the outdoor facilities at the Maulwurfshausen adventure playground a facelift.
GREEN SEVEN
With its weeklong Green Seven initiative, ProSieben is harnessing its extensive reach to motivate notably young viewers to embrace a sustainable and environmentally friendly lifestyle. From as far back as 2009, ProSieben has colored its logo green once a year when special programming trains the spotlight on environmental topics. Under the slogan "Save the Water," the station advocated for more responsible use of this precious resource in the week from July 11 to 17, 2016. In addition to the Green Seven report, entitled Save the Water – Der weltweite Kampf ums Wasser (The Global Fight for Water), a number of the station's magazine shows ran with the topic. Bannered "Save the Ice," the Green Seven week in 2017 has as its mascot a recent addition to the Munich Zoo Hellabrunn family – polar bear cub Quintana whom ProSieben has adopted. A documentary on the topic will once again be rounded out with a variety of magazine reports. What's more, ProSieben has conferred the Galileo Wissenspreis as part of the GreenTec Awards since 2013. The annual prize recognizes innovations and ideas that contribute to a sustainable, green lifestyle. As of 2016, ProSieben, Galileo, and the WWF have joined hands to present the WWF Galileo Green Youngster Award as a special prize.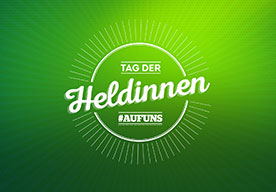 DAY OF HEROINES
For ProSiebenSat.1 Group's station sixx, all women are heroines who deserve to be celebrated on International Women's Day. This is why the station inaugurated Day of Heroines on March 8, 2016 with the aim of highlighting the topic in its programming. The edition of Like Us dubbed Unsere 30 größten Heldinnen (Our 30 Greatest Heroines) featured a countdown of 30 heroic women in film, music, and politics as well as remarkable individuals who are not in the limelight. Pakistani women's and children's rights activist Malala Yousafzai, who won the 2014 Nobel Peace Prize for her fearless commitment to the cause, topped the ranking. By broadcasting selected dramas such as The Color Purple and Die Frau des Schläfers (The Sleeper's Wife), sixx put strong female characters and their stories front and center. As part of a nationwide postcard campaign, sixx also invited people to send a note to female role models in their lives as an expression of appreciation for mothers, daughters, aunts, or coworkers. sixx celebrated International Women's Day for the second time in March 2017 with appropriate programming highlights.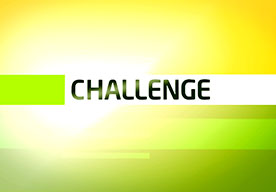 CHALLENGE
The purpose of TV magazine show Challenge is to combat prejudice and hearten those affected. Produced under the aegis of Arbeitsgemeinschaft Behinderung und Medien e.V., a work group that champions inclusion in the media, Challenge offers a peek into the lives of people with disabilities. While inspiring those with disabilities to actively participate in society on their own terms, the show also aims to give the rest of the population a better understanding of what it means to live with a disability. Half an hour in length, the TV reports first aired in 2000 and have since become a firm feature of the kabel eins lineup. Starting in 2016, they are now also broadcast on SAT.1 Gold. Social inclusion was also the focus of taff's weekly series Ziemlich Best Friends (Pretty Much Best Friends) in December 2016. The ProSieben magazine show followed 23-year-old Vanessa who, despite being confined to a wheelchair since childhood due to leg paralysis, is living an independent life.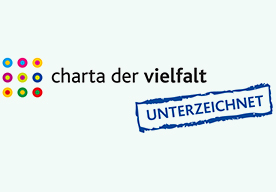 DIVERSITY CHARTER
Open-mindedness and respect lie at the heart of the ProSiebenSat.1 corporate culture. The Group signed the Diversity Charter in 2014. As signatories to this initiative, we have renewed our commitment to creating an inclusionary working environment that is free of prejudice and promotes diversity among staff. We value a broad spectrum of personality traits, interests, and cultural backgrounds among our colleagues and firmly believe that diverse teams are more successful. For us at ProSiebenSat.1, diversity not only means a balanced ratio of men to women but also that employees at all levels of the company are hired exclusively on the basis of objective criteria reflecting their skills. Factors such as nationality, sexual orientation, and age play no part in selection. In the 2016 financial year, ProSiebenSat.1 employed people from around 50 different countries in Germany. [G4-15]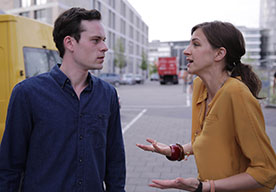 YOUNG LIONS
ProSiebenSat.1 is putting its weight behind young filmmakers in German-speaking countries with numerous projects. As part of its Young Lions initiative, the Group supports graduates of the Baden-Württemberg Film Academy, giving them an opportunity to run with offbeat topics and exceptional projects. Support comes in the shape of financial backing, expertise, and coveted broadcast slots on ProSiebenSat.1 channels. What's more, the broadcasting Group singles out the cream of the talent crop with the Young Lions awards. In September 2016, SAT.1 aired fledgling filmmaker Jan Haering's graduate feature Undercover küsst man nicht (No Kissing Undercover). Starring Florian Bartholomäi, Natalia Belitski, and Reiner Schöne, the romantic comedy was produced in collaboration with Ninety-Minute Film GmbH, which was also responsible for Die Ungehorsame (The Disobedient Woman). ProSiebenSat.1 Group supports a total of seven institutions, including the Bavarian Television Academy (BAF) and the Hamburg Media School. For seven years now, the broadcasting Group has also cooperated with the University of Television and Film Munich in rewarding the best concepts for a TV movie with the mainstream award, which comes with 6,000 euros in prize money.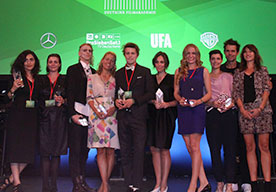 FIRST STEPS
Outstanding thesis projects by film school graduates are eligible for the FIRST STEPS award conferred annually by ProSiebenSat.1 and its partners. In this way, we promote young creative blood, helping up-and-coming filmmakers find their feet in the industry. Endowed with a purse of 102,000 euros, the award was presented for the 17th time on September 19, 2016 at a gala event hosted at the Berlin Stage Theater des Westens. Four juries select the winners in eight categories, which among other things include the best directorial work on films of various lengths and genres, a cinematography prize, and an honorary special achievement award for work with talented newcomers. Since 2012, the NO FEAR award has been presented to film production graduates who have shown particular courage in working with challenging material. Regarded as the most prestigious award of its kind in Germany, Austria, and Switzerland, FIRST STEPS is a private film industry initiative launched by producers Bernd Eichinger and Nico Hofmann.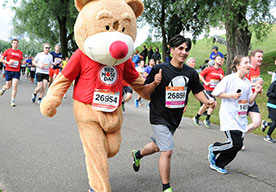 WE HELP
Under the WE HELP banner, ProSiebenSat.1 Group is doing its part for refugees in Germany. Set up specifically for this purpose, the project group of the same name meets regularly to brainstorm new ideas. It also stays in close dialog with the refugee support community in Unterföhring. We believe that helping others should be a group effort, so it's no surprise that most of the ideas and suggestions come from our employees. In 2016 they collected over 100 boxes of clothing, shoes, and bags as well as baby and hygiene products through the company's own Intranet for donation to the refugee accommodation of Bayernkaserne in Munich. An in-house props and costume sale was also organized in support of the initiative. In addition, our employees took part in six company runs staged across Germany to benefit the good cause. The Group sponsored them for every kilometer completed, resulting in a donation of EUR 41,000. What's more, ProSiebenSat.1 invited a number of refugees to join the Group's Munich team for the first time. Proceeds from the 2017 company runs are once again going to the ProSiebenSat.1 refugee aid fund. The Company has also joined "Wir zusammen", an initiative organized by German business to foster refugee integration in the country.